Although the use of CO2 as refrigerant gas in industrial refrigeration systems is very old, lately we have witnessed an increase in its implementation due to current legislation to stop climate change. This has generated a large margin of opportunity in which the care of the environment goes hand in hand with the energy efficiency of companies, thanks to the use of natural refrigerants in the industry.
Knowing how to correctly implement a CO2-based system is no longer an alternative of the future: it is a necessity for companies, but also for engineers, technicians, and all personnel involved in the maintenance of refrigeration systems.
Subcritical and transcritical: know the differences
Although C02 is used as refrigerant in both systems, the main difference between the subcritical CO2 system and the transcritical CO2 system is the condensation process:

· Subcritical application:
In this case, CO2 reacts like any other refrigerant. When it absorbs heat, it compresses and condenses. This causes that, when losing heat, it transforms from the gaseous state to the liquid.
· Transcritical application
In this application, CO2 works very differently from other refrigerant gases because it doesn't condense. This means that it never changes its gaseous state.
In both systems, CO2 has several benefits: its efficiency can be up to 8 times higher than that of other refrigerant gases, has low toxicity and isn't flammable, which represents greater safety in operations.
However, before designing and installing a CO2-based system, it's necessary to analyze the specificities of each case to decide whether a transcritical system can be a viable alternative.
Compression temperature
Normally, the critical temperature of CO2 is 87.76 ° F (approximately 31 ° C) with a pressure of 1080 PSI (pounds per square inch, equivalent to 74.4 Bar). In a transcritical system, CO2 cools, but doesn't condense, staying above the critical temperature. In a transcritical application, the CO2 pressure can reach 1500 PSI (103.4 Bar, approximately).
Characteristics of a transcritical CO2 system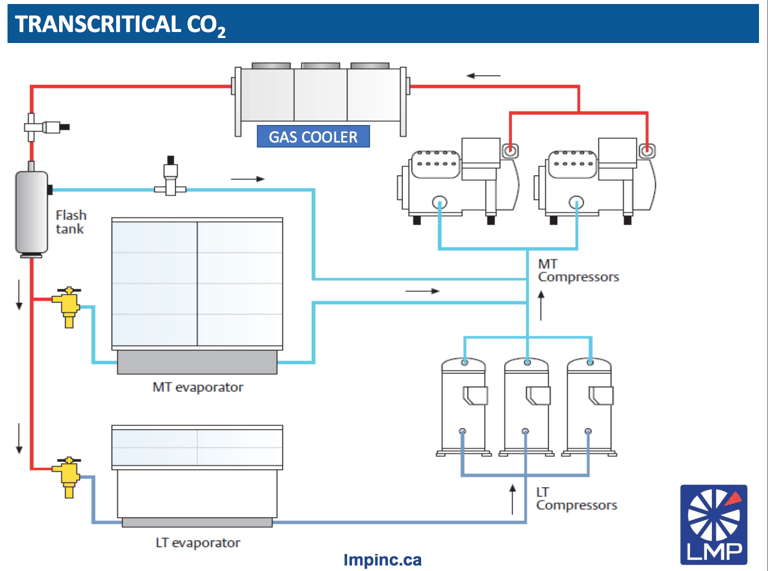 We must bear in mind that the term "critical" doesn't mean that one works under serious or dangerous conditions. Rather it refers to the specific point between the refrigerant states.
Transcritical systems, like subcritical systems, evaporate CO2 below its critical point. However, in these systems, the compressor pressure discharge is very high and above the critical point. This means that, consequently, the superheated fluid must be constantly cooled in a gas cooler, instead of cooling and condensing it to liquid, as in a subcritical cycle. The compressed and cooled fluid receives a reduction in pressure below the critical point where a part of the fluid condenses into liquid to be fed into the evaporator.
Is it advisable to implement a transcritical CO2 system?
This type of systems have the advantage of using only natural refrigerants and being highly efficient compared to other installations. However, due to the high pressure levels used, they require a much more complex installation than other alternatives. The above isn't an impediment to its implementation, but a reminder of the importance that a good design of the refrigeration system has on the implementation. The use of adequate equipment and components and, above all, qualified training in this type of systems.


Considerations before implementing a transcritical CO2 system
In the design of CO2-based refrigeration systems you should consider and procure these variants and components:
Weather

Size and capacity of the engine room

Technology to be implemented

Drivers

Heat recovery

Installation

Assistance
Each of these variants considers important decisions in the design and implementation of the transcritical system and the equipment that intervene in it.
Cooling applications with CO2 will give much to talk about in the coming years, so being updated is essential to stay current. The key, as in other types of challenges, is to establish strategic alliances and continue in constant training.